Doctor of Chiropractic
GCC Registered Chiropractor
No. 01243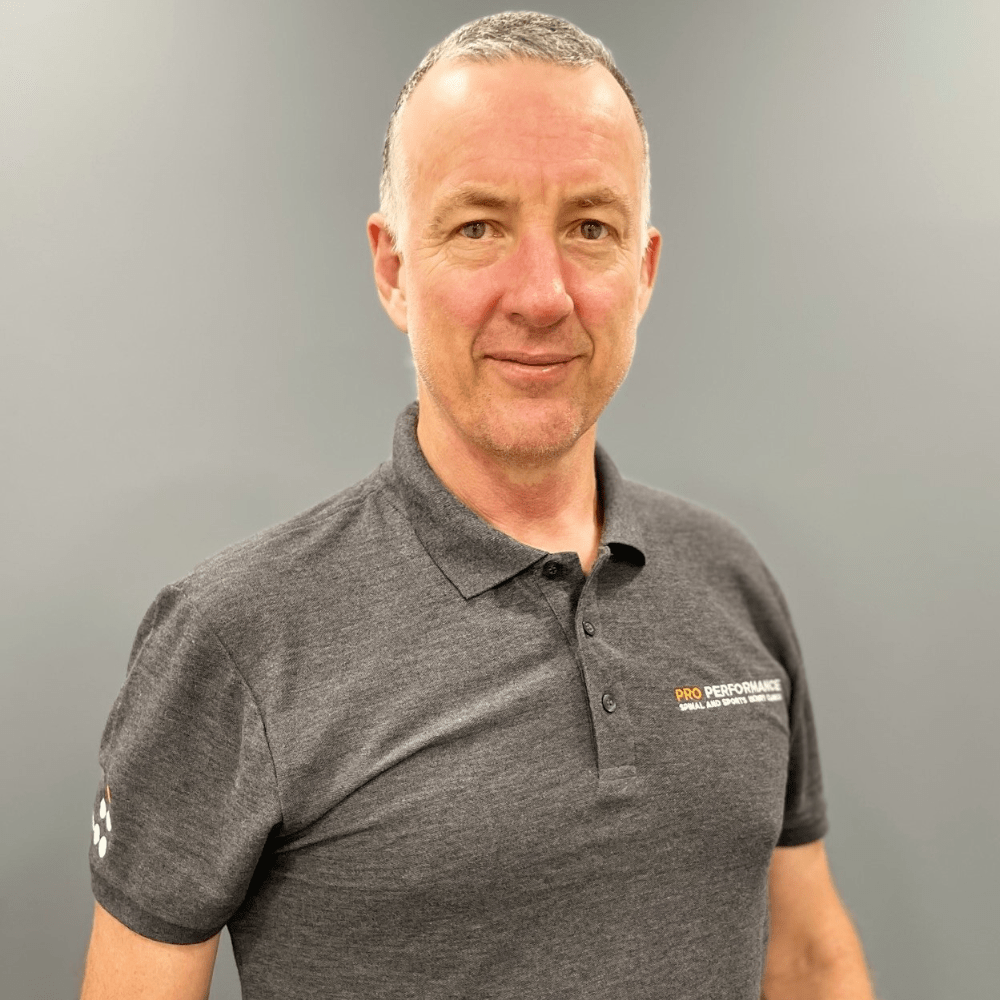 Ed is our gold medal winning chiropractor!
Before joining Pro Performance, he spent 20 years as the high-performance chiropractor at the New Zealand Institute of Sport and Health in Auckland, working with New Zealand's top athletes from All Blacks, Olympic gold medallists and world champions.
Ed's vision is to provide "elite care for all" and to help patients understand how their bodies function and the role they can play through knowledge and motivation, he recently completed a diploma in Health Coaching specialising in Advanced Mental Health and Advanced Nutrition.
Ed's brilliant treatment skills provide safe and effective chiropractic techniques to suit any age and treatment preference. Ranging from gentle techniques for pregnant and elderly patients to treatments suitable for 120kg international prop forwards!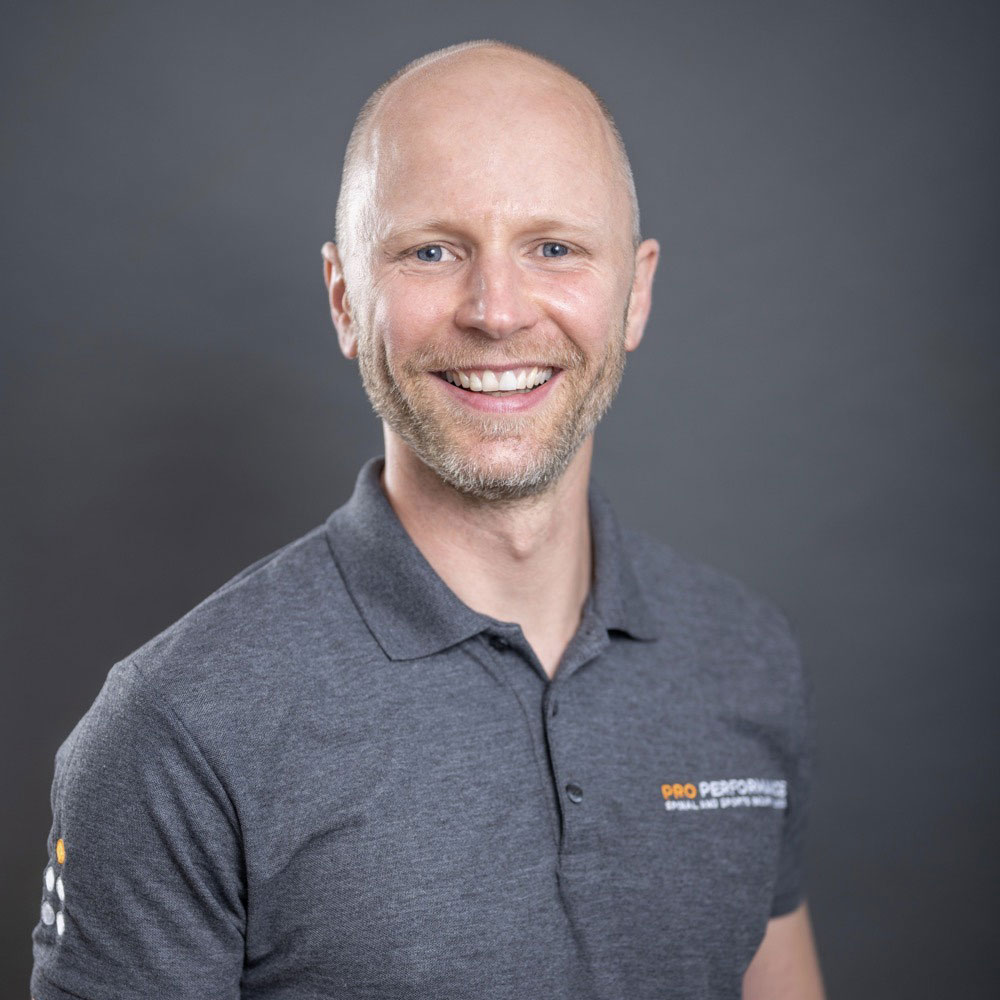 Dr Robert Griffiths BSc (Hons) Chiro DC
Doctor of Chiropractic
GCC Registered Chiropractor
No.02794
What you can expect…
Professional Accreditations
General Chiropractic Council (GCC) – Full Licence 02794
British Chiropractic Association (BCA) – Full Member 2715
European Chiropractic Union (ECU) – Full Member
Selective Functional Movement Assessment (SFMA) – Level II Certified
Functional Movement Screen (FMS) – Level II Certified
Runners World & Men's Running Magazine – Sports Injury Author
Coccyx.org – Listed Specialist

What his patients say…
Having coached some of the world's finest athletes and worked with their medical teams, I would rank Robert Griffiths at Pro Performance as the very best. I recommend him to all my sports stars whenever they seemingly can't be fixed because he gets incredible results every single time!

Ben Thomas – Elite Performance Coach
15 x Wimbledon & Grand Slam Champions 'The Bryan Brothers' & Saracens RFC
Robert has been successfully treating back pain, neck pain and sports injuries in The City and Notting Hill for nearly 15 years. His unique modern approach achieves fast and lasting results by addressing the underlying cause of your pain.
He has treated:
Olympic athletes

Tour de France cyclists

International rugby players

Champion racing drivers

Professional opera singers

RPO concert musicians & Glastonbury headliners

British and Foreign Royalty

Celebrity British artists and one international frisbee player (It's serious stuff these days)!!!
Bob absolutely loves his job, but outside of work, he loves a good challenge! He has summited the world's highest active volcano, completed the Buttermere cold water 10K swimming marathon and has taught English to Buddhist monks in Cambodia!
Bob has extensive experience treating…
Back Pain – Lumbar slipped/herniated discs, spondylolisthesis, lumbar facet pain & coccyx pain
Neck Pain – Cervical slipped/herniated discs & whiplash
Pelvic Pain – Chronic pelvic pain syndrome, pudendal neuralgia
Thoracic & Rib Pain – Intercostal neuralgia, thoracic joint pain & muscle spasms
Headaches – Migraines, cervicogenic headaches & dizziness
Shoulder Pain – Frozen shoulder, rotator cuff tendonitis, labral tears, & thoracic outlet syndrome
Elbow Pain – Tennis elbow, golfer's elbow & olecranon bursitis
Wrist Pain –  Carpal tunnel syndrome, RSI, wrist tendonitis & sprains
Hip Pain –  Psoas/glute/hamstring tendonitis & femoro-acetabular impingement
Knee Pain – Patello-femoral tracking syndrome, knee ligament/meniscus pain & patella tendonitis
Ankle & Foot Pain – Achilles tendonitis, tibialis posterior tendonitis, plantar fasciitis & ligament sprains/tears
Treatment Techniques

Medical acupuncture (Dry needling)

Low-Level Laser & Ultrasound Therapy
Neuro-Muscular Re-educationTM 

(NMR) & Active Release Technique

TM

 (ART)

Joint manipulation/adjustments and gentle mobilisation
Myofascial stretching
K Taping & joint strapping
Custom Made Orthotics Prescription
Core stability & proprioceptive feedback training
Video analysis feedback
Weight-loss planning and exercise advice
Functional Movement Screen Correctives
SFMA 4×4 Matrix Exercise Prescription
Muscle Activation Therapy (MAT)
Diaphragmatic Breathing Release
Reactive Neuromuscular Training (RNT)

Special Thanks
Dr Gray Cook PT: The modern guru of movement.
Professor Stuart McGill: For sharing the secrets to fixing elite athlete's back pain permanently.
Dr Michael Durtnall DC: For selecting me to work at London's prestigious Sayer Clinics for six years, which introduced me to my amazing list of high profile athletes and celebrities. Also for generously sharing his wealth of knowledge regarding back pain, neck pain and coccyx pain with me.
Dr John Reynolds MD: For showing me how to produce incredible results using medical acupuncture.
Dr Kelly Starrett PT: Inspirational mobility expert who took me to the next level with treatment techniques.
Insurance
Registered with Bupa, Vitality, WPA, Van Breda, Standard Life, Simply Health, Cigna, Aviva, Groupama and all other high-quality international insurance companies.
Published Articles and eBooks
Alongside being an article writer for Men's Running and Runners World, Bob has authored a series of pain relief guides on optimising recovery from injuries.
GCC, BCA & Functional Movement Systems Certified
INSURANCE
Pro Performance Clinics

are covered by major insurance companies.

Please ensure you notify them before starting treatment. Remember to bring any authorisation & policy numbers with you on the day of your appointment. If you have anything you would like to discuss with us prior to booking, call us on 02079711259 and our team will answer any questions you may have.